Bunker Samples Black Friday Sale is live, with the lowest prices of the year on answers to questions that no one has asked before: 50% off everything, and an additional 10% off your entire order if you buy more than one product.
What happens when you put a microphone inside a viola and play really quiet? Well I wondered, and the result is Iremia.
What if you could seamlessly change a string ensembles size with a slider? Bunker Strings is the answer to that.
What would you compose on, if you woke up in 1910? Probably a Harmonium. 
How many different ways can you bend a single string? The Off-World series is a deep dive into that. 
SALE ENDS DECEMBER 10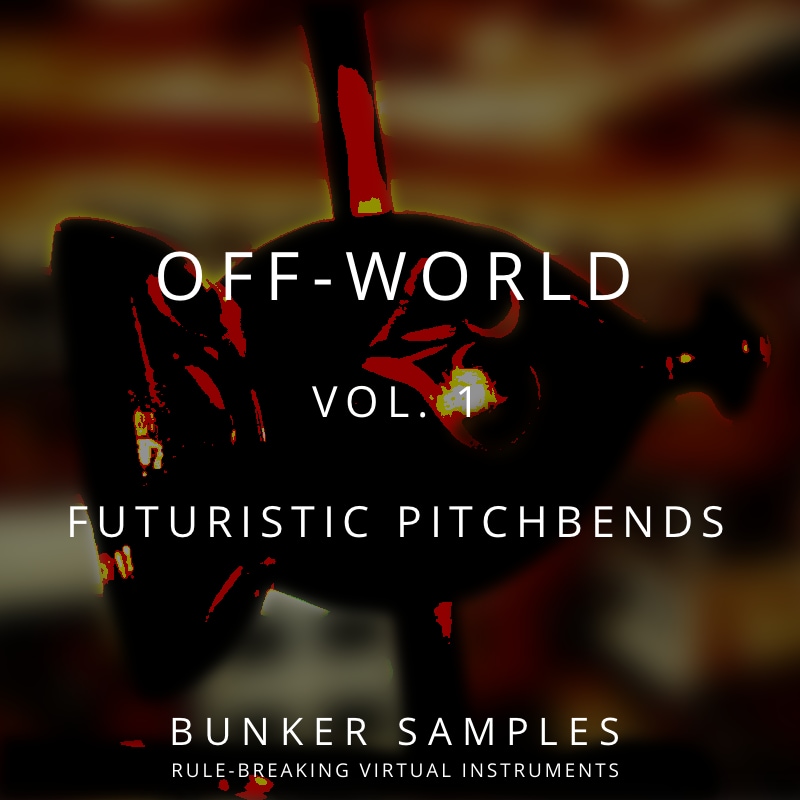 OFF-WORLD VOL. 1
$19.5

 $39 

BLACK FRIDAY SALE
(Ex. VAT)
Off-World is a one-of-a-kind instrument for film, tv, trailer and games composers. It gives you huge, cinematic sounds, with a unique focus: Organically performed pitch bends into target notes. Sourced from an ancient Vietnamese instrument performed in a "wrong" way, and processed through octave generators, distortion and reverbs, the sound is reminiscent of the sonic world of Bladerunner 2049, but can easily be manipulated to your own needs. The perfect companion library to Off-World Vol. 2.
THIS LIBRARY COMES WITH THE BONUS LIBRARY GONGSTER LOOPS (ONLY AVAILABLE WITH PURCHASE)
"Off-World Vol. 1 is an outstanding instrument to add to your sound design library, whether you're a pro media composer scoring your next project or, like me, an avid experimentalist, you'll find that it delivers spectacularly on its promise of fresh sounds, intuitive and powerful UI, and wide-ranging capabilities. I recommend it highly."
"Let me start this review by stating that I absolutely LOVE this instrument. Before my purchase, I Googled what exactly the Dan Bau instrument was as I had never heard of it before. At first I was thinking okay, it looks really interesting but also a very difficult instrument to play. Then along comes Bunker Samples with a completely new take on this magnificent instrument. I happen to love drone and cello based libraries and Bunker Samples digital recreation of a Dan Bau hit both of those marks for me! It is a hauntingly beautiful instrument and I've already used it in some orchestral compositions as well as ambient soundtracks. Having played this superb virtual instrument for a while now, I know there are many more applications (genres) that it will fit nicely in. You will be limited only by your imagination at what you can do with this virtual instrument. Bunker Samples hit it out of the park with their version of a Dan Bau. Well done!"
"Love the new Off-World release. Moody, dark, unusual, open & atmospheric.
Much like the previous Strings & Harmonium libraries, this recent addition is just straight up fun to play.
A real bonus is the inclusion of the raw samples for experimenting with. This makes the possiblities of what you can do with this library virtually endless."
"Bunker Samples like to develop sampled instruments that are different and unique, yet extremely musical and useful. As a very happy user of their gorgeous harmonium, I immediately purchased Off-World. To me these bowed Dan Bau strings almost sound like a pitch-bent church organ at times. Who knew I needed that sound! The longs bows can make for some beautiful pads, while the more distorted patches immediately conjure up memories of epic action movies. After watching the walkthrough I immediately midi-learned the filter resonance to a controller. Add the lush convolution IRs built-in, and it's either an extremely warm up- or down bending pad or you end up with all sorts of My Bloody Valentine shoegaze drone madness. Very clever programming and a clear UI complete the package. Out of this world good samples."
"Who would have thought that bowing one string could produce such an amazing sound?  This repertoire of new sounds differs from anything I have in my cinematic arsenal (and I have a large one), as it stands out distinctly from all of the braams, pads and other familiar cinematic effects.  A lot of the presets provide a powerful gush of sound that is highly useful for climactic builds and leaps into space.  'Off World' is a great name for the library, as it definitely launches you out there.  It's the pitch bending that underlies it's unique character.  Bunker Samples was highly innovative in choosing the Dan Bau and deciding to bow it.  And the effects processing is superb."
"Once in a while a developer finds a unique way to implement a sample set and creates something truly original.
Bunker Samples and Off-World Vol. 1 is a unique instrument, the kind we haven't seen before."
"Bunker Samples make awesome instruments – there's some strangely cool stuff in that bunker. "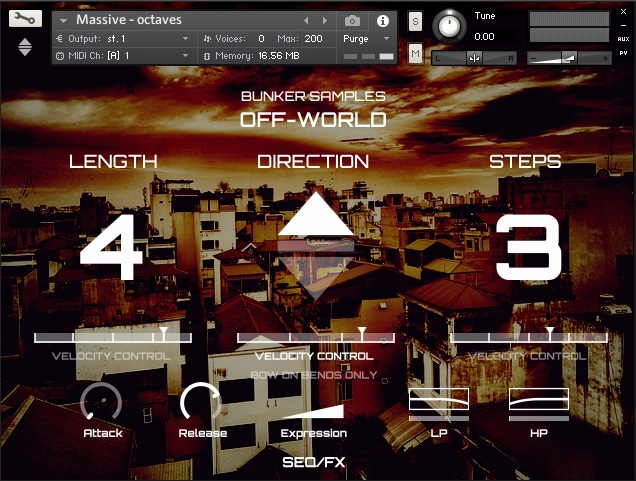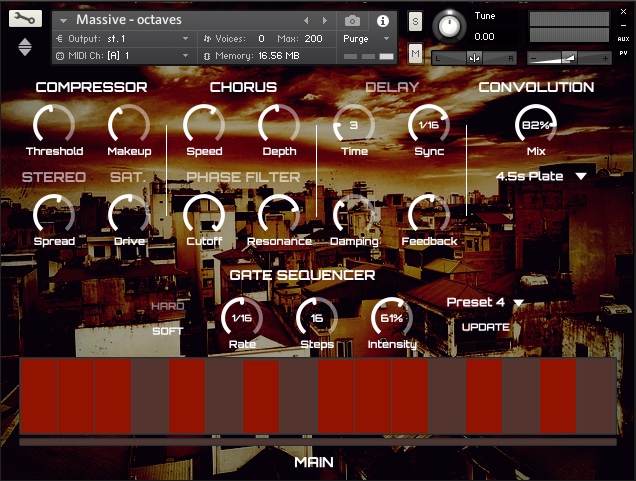 A pitch bend compendium
The source
The sound source for Off-World is a Vietnamese Đàn Bầu, an ancient monochord instrument, played in an un-conventional way: bowed with a violin bow, and then processed through an octave generator, distortion and reverb. The most striking feature of the Dan Bau is a bamboo handle controlling the tension of a long metal string, making this instrument particularly good at expressive pitch bends, which is the focus of Volume 1 of Off-World. 
The engine
Every pitch bend was carefully performed at 4 different lengths, each covering a range of 1 to 4 semitones above and below the target note. Add in 4 different lengths of non-bending bowed samples, and every single note in this library can be played in a staggering 36 different ways. To control this amount of choice you get a new bespoke Kontakt engine, which makes it easy and intuitive to play. Any of the 3 main parameters can be mapped to velocity control, allowing you do things not possible on a normal synth – like simultaneous up and down bends. You also get an easy to use tempo synced gate sequencer and a host sound shaping effects built in. 
The sound
The processed samples in Off-World are the biggest sounding samples yet made by Bunker Samples – they sound huge and otherworldly, and can add instant drama and awe to any film, tv, trailer or game score. But the fun doesn't end there; you also get all the dry, un-processed samples mapped in the engine ("creator patches"), making it easy to do your own sound design. Because the modern version of the Dan Bau features a guitar style pick-up, these sounds take extremely well to any kind of FX you would normally use on a guitar. 
PATCH LIST
Creator Patches (un-processed)
Just Dan Bau

POG Pedal – Full (4 octaves)

POG Pedal – Octaves
Distortion
Xtra crunch – full
Distorted – octaves
Distortion mayhem – full
Saturated – octaves
Warped
Drone flyby – full
Massive XL – full
Massive – full
Metallic Rez – Octaves
Outer limits – octaves
Massive – octaves
PRODUCT INFO
36 ways to play each note
4212 samples
12,21 GB lossless compressed size
13 instrument patches
Requires the FULL version of Native Instruments Kontakt 5.6.6 or later