Bunker Samples Black Friday Sale is live, with the lowest prices of the year on answers to questions that no one has asked before: 50% off everything, and an additional 10% off your entire order if you buy more than one product.
What happens when you put a microphone inside a viola and play really quiet? Well I wondered, and the result is Iremia.
What if you could seamlessly change a string ensembles size with a slider? Bunker Strings is the answer to that.
What would you compose on, if you woke up in 1910? Probably a Harmonium. 
How many different ways can you bend a single string? The Off-World series is a deep dive into that. 
SALE ENDS DECEMBER 10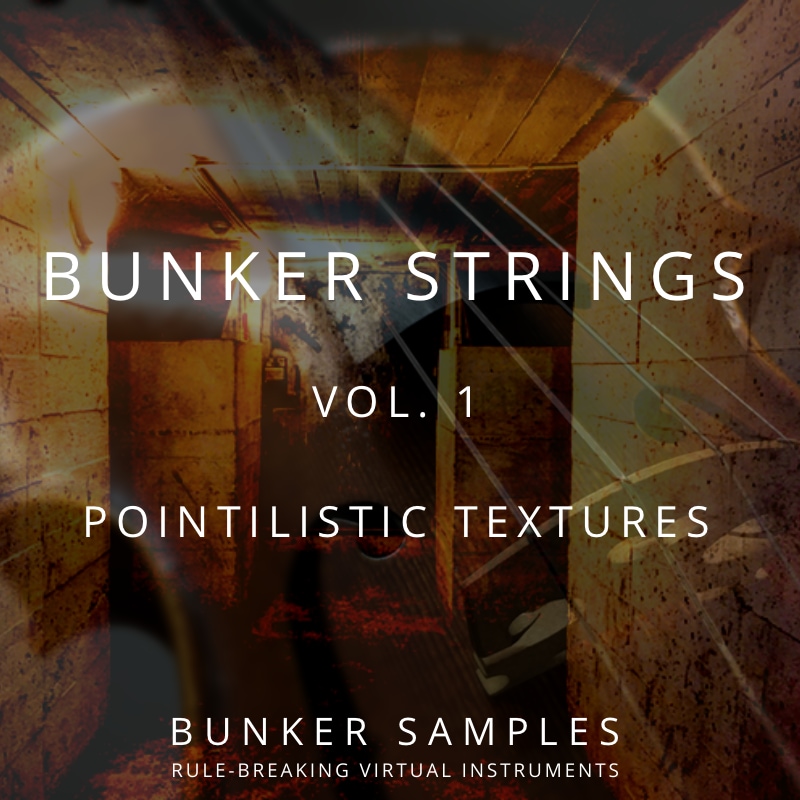 BUNKER STRINGS VOL. 1
$29.5

 $59 

BLACK FRIDAY SALE
(Ex. VAT)
Bunker String turns established norms of sampling upside down, to give you full control over an exciting array of unique articulations. A secret weapeon of many media composers, it has been used on the soundtrack of countless shows like "Shadown and Bone", "The witcher" (Joseph Trapanese) and "Dickinson" (Drum & Lace, Ian Hultquist) to name a few. Vol. 1 is focused on contemporary pointillistic textures, from shimmering beauty to scary mayhem, Bunker Strings Vol. 1 is sure to inspire you and give your string writing a unique sound.
This library pairs really well with Bunker Strings Vol. 2. 
THIS LIBRARY COMES WITH THE BONUS LIBRARY GONGSTER LOOPS (ONLY AVAILABLE WITH PURCHASE)

"...I enjoyed these samples and found them to be an inspiring alternative to conventional string collections — it's good to know something positive can come out of a bunker!"
"Absolutely brilliant work on Bunker Strings! They're dry in a very natural way, which is almost impossible to find even in a more standard string library, but also have such a unique quality that sets them apart from anything else I've ever used. Brilliant work, one of the best sample libraries I've ever bought."
"While playing through the samples, the first thought that comes to mind is 'creativity'; both in how the library was conceived, in addition to how it inspires. There is an inherent 'rawness' to the samples that gives the library a sincere human-feel and the eclectic sounds definitely encourage improvisation while exploring new musical ideas…When playing through the different nki's, it is clear that a lot of editing went in to creating this pioneering library….
…In a business where composers are constantly striving to create and shape their original sound, Bunker Strings Vol. I does just that and absolutely delivers on its promises of a unique, innovative string sample library. A very cool library for any media composer looking to add some distinctive string textures and techniques to their palette!"
"This library fills a gap that I didn't really knew existed, and it's impressive in its recording quality. There are some lovely textures in there which are very useable (pizzicato trem/drumstick trem etc), and the Drumstick Shorts patches are worth their admission price alone – essentially using drum sticks to create short, percussive, snappy "spiccato" patches that have a great sound. Fantastic on all 4 instruments (violins, violas, celli, basses). So you have a small selection of patches, snappy, percussive ones and ones which are more textural and very ready for layering and further manipulation with fx. And the price is very fair!"
"Bunker Strings is not your ordinary string library. It's something very niche, very unique, and an instant source of character, tension and energy-building sounds for your music. Excellent for things like tension focused underscores, action-oriented scenes, and even trailer music. All in all, a super cool sound palette to have in your arsenal as a composer!"
"Bunker Strings Vol. 1 instantly provided me with 16 new instruments in my template that I didn't already have. I'm always looking for a sound that will inspire and open a door creatively to a space that is sometimes difficult to describe. From unique pads, textures and especially the ricochet tremolos with a wide range of density and dynamics…I'm in sonic heaven. Thanks Nicolaj for creating this unique library!"
"Great for textures and feel! This library gives you articulations that you don't already have and can't get anywhere else. The shorts have a great snap to them. The sound is really pristine and present. The extra sound design patches are really useful and well done."
"I love the drumstick col legno's, they are mega aggressive, probably the most intense available in any sample library"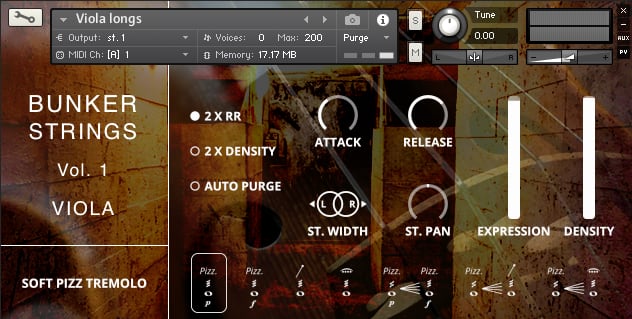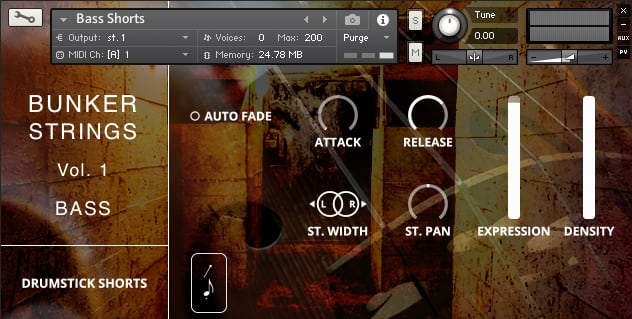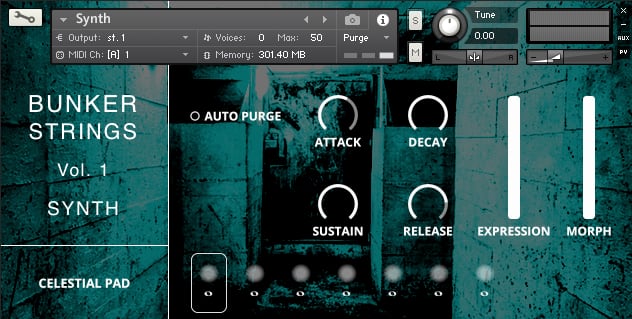 A new approach to string textures
Conceived and recorded deep underground in a World War II bunker in Copenhagen, Bunker Strings Vol. 1 is a collection of eclectic, modern and highly playable string textures and extended techniques, that will add a new sonic palette to your arsenal. Featuring violins, violas, cellos, basses and a full ensemble patch playing innovative textural techniques such as drumstick tremolo, as well as some incredibly tight and aggressive col legno shorts, this library will inspire your creativity and add a modern edge to your string writing. It's designed to easily blend with your existing strings sounds thanks to the excellent dry recording quality and useful sound shaping controls directly on the interface. From soft, shimmering beauty to loud and bombastic, Bunker Strings is the perfect addition to any film, game and TV composer's toolkit. 
The density slider
Bunker Strings represents a new way of thinking about string texture sampling, because it lets you create dynamics and textural changes by literally changing the ensemble size on the fly with the density slider. This technique is only possible through the power of sampling, making this library a true virtual instrument in it's own right, one that lets you add life and shape to normally static textures. All the longs articulations are available in normal and extra dense versions, giving you the versatility to use the library in anything from a chamber piece to an epic trailer. The combination patches takes this concept a step further, letting you seamlessly morph from one texture into another.
Hear the density slider in action:
powerful shorts
Bunker Strings also features short col legno notes, a very popular sound in film music. Normally played by tapping the strings with the wood of the bow, we went for a drumstick instead! The result is crisp and tight shorts that can go from soft and ticking along in the background, to a massive, thunderous "whack it as hard as you can". They add instant punch to your rhythmic writing, and blends really well with your existing string libraries, thanks to the dry recording space and useful controls for stereo image right on the interface. Best of all, the density slider also works on the shorts, letting you go from 3 to 9 players pr note.
modern textures
Bunker Strings is not a normal string library! The concept is unique and the sounds are raw and gritty, but can also be delicate and beautiful – and above all, this is a texture library you can actually play like an instrument. If you're looking to spice up your string writing and add a distinct modern edge to your sound arsenal, this is the library for you. As one of the demo writers summarised it: "insta-Jonny Greenwood". 
try the freebie
The original prototype for Bunker Strings, "Scary Viola Pizz", is available free of charge and with no limitations, so you can try the concept before you buy. It has a very limited range compared to the full version. Download from here. 
Vol. 1 and Vol. 2 – what's the difference?
In short, while they share the same concept and philosophy, and was recorded in the same way, in the same room, there is no overlap between them in terms of sounds and articulations.
The longs in Vol. 1 are all pointilistic in nature, many short notes coming together to form long notes, and are all non-bowed except for the ricochet tremolo. By contrast, the longs in Vol. 2 are all bowed and more sustained in nature. There is just one pointilistic articulation in Vol. 2: the plectrum tremolo.
The shorts in Vol. 1 can replace any traditional Col Legno when you are looking for more power, while the shorts in Vol. 2 can replace any traditional pizzicato, when you want more clarity and bite. The strummed non-tonal shorts in Vol. 2 are great as a percussive, driving element.
NEW IN the latest update
The bass ricochet tremolo that was missing from the initial release has been recorded and added.
The previous 78 patches have been consolidated down to just 11: a longs and a shorts patch for each instrument (including ensemble) and the bonus synth sounds are now also in a single patch. Select the articulation you want with GUI buttons or key switches.
No more having to load a different patch to switch between the normal and dense versions of an articulation. It's now a switch on the GUI.
Auto purge for the multi articulation patches: use only the RAM needed for the currently selected articulation.
Auto fade for the shorts: automatically stop any previously played notes or chords still ringing out any time you play a new note or chord. Cuts down on voice count and is more realistic.
And last but not least a more modern looking, easy to use GUI.
 INSTRUMENTS
Violins (3 to 9 players)

Violas (3 to 9 players)

Cellos (3 to 9 players)

Basses (3 to 9 players)

Full Ensemble
ARTICULATIONS
Drumstick shorts (power col legno) with 3 dynamic layers and 4 round robbins.

Drumstick tremolo

Soft pizz tremolo

Loud pizz tremolo

Ricochet tremolo

Combination patches:

Soft into loud pizz

Pizz into drumstick trem

Pizz into ricochet trem

Bonus patches: 7 different sound design patches
COMPLETE PATCH LIST
Violin – longs (normal and 2 x dense)
Violin – shorts (drumstick trem)
Viola – longs (normal and 2 x dense)
Viola -shorts (drumstick trem)
Cello – longs (normal and 2 x dense)
Cello – shorts (drumstick trem)
Bass – longs (normal and 2 x dense)
Bass – shorts (drumstick trem)
Synth – 7 different pads in one instrument
PRODUCT INFO
4766 samples (mixed from over 10000 samples)
8 GB uncompressed Wav files
3,9 GB lossless compressed size
80 articulations/sounds in total
11 instrument patches
Requires the FULL version of Native Instruments Kontakt 5.6.6 or later. Will not work in the free "Kontakt Player".