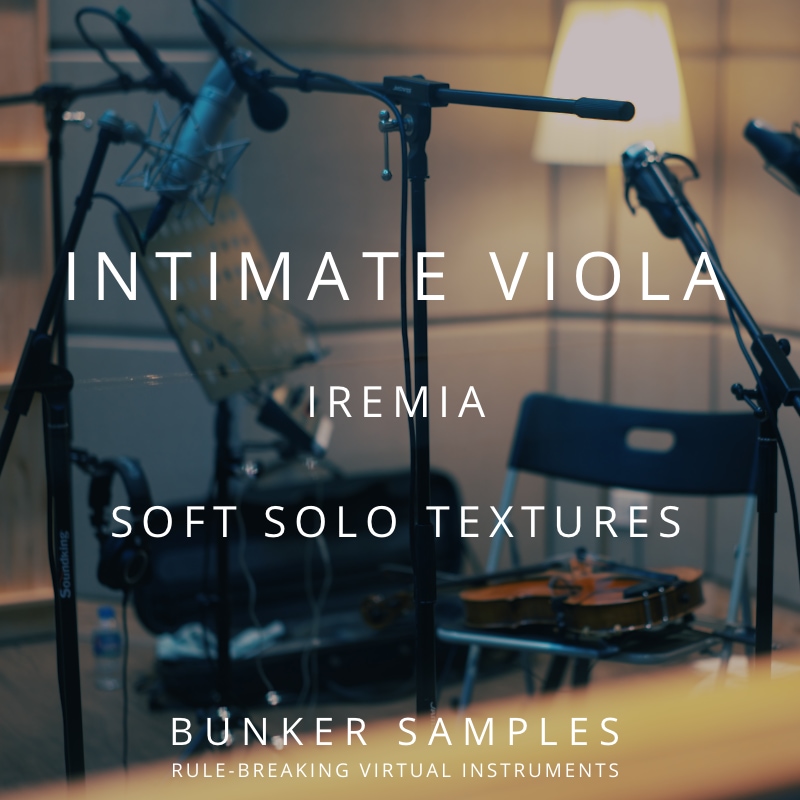 INTIMATE VIOLA "IREMIA"
SOFT SOLO TEXTURES
$49
$99

 INTRO DISCOUNT (ENDS DECEMBER 10)
Please note: requires the full version of NI Kontakt 6 or later.
Iremia will not be discounted further during black friday.
Iremia (Greek): tranquility, peace, serenity. quietness.
Iremia is dedicated to exploring the most intimate and quiet side of a solo viola, captured in stunning detail with a unique set of microphone positions. The combination of the melancholic and dark sonority of the viola, playing extremely softly and recorded very, very close, has resulted in a virtual instrument of incredible intimacy, beauty and humanity. With a wide selection of airy sustains, beautiful moving textures and natural, organic swells, Iremia instantly gives you that contemporary, Scandinavian string sound, perfect for scoring Scandi Noir dramas or indeed for any time you need an instrument that quietly pulls your listener in and whispers all its secrets.
"I wanted to capture a side of the viola in a virtual instrument that the audience rarely hears, but one that I have had right under my ear for most of my life: the bow noise, the minute fluctuations and tiny little imperfections that makes it sound so intimate, fragile and human. These things really stand out when you play very quiet, so that's how the idea came about; extremely quiet sounds recorded very, very close. I basically wanted the mic to be as close to the instrumemt as my left ear is – and that's when I started wondering what it actually sounds like inside the instrument itself. Well, I wonder no more…This is – in my opinion – the most beautiful instrument Bunker Samples has made yet!"
Nicolaj M Nielsen, violist and founder of Bunker Samples
"I finally got to download and have a play with this library. Wow! It has sounds that immediately make you start playing, coming up with new ideas in new directions. I know already this is going to be so special for me and I can't wait to develop even the stuff it has already made me create, let alone the stuff yet to happen."
"This Viola library is truly refreshing, unique, accessible and easy to blend in, it brings new flavors to my main template with a ton of beautiful sounding articulations which I will use extensively. The inside and super close mic configurations captured the tone of the instrument body with all the characteristics in great detail, you can hear the sound of the instrument vibrate harmoniously from the player's perspective like never heard before."
"Such a nice tone! Probably the warmest, smoothest I've heard in sampled viola"
"Superb sound and UI ! I love the sends on each mic, the X-fade instruments… really impressive stuff. Count on me for the violins, Celli and Basses!"
"Well this is very, very many shades of gorgeous, a near perfect balance of delicacy and detail."
"Iremia is a welcome addition to the Bunker Samples line-up. The delicate sounds of a carefully sampled set of soft dynamic layers both with and without mutes are enchanting, and the ability to crossfade between normale and con sordino as well as two flavors of con sordino allow for endless and beguiling compositional possibilities."
The sustains in Iremia are achingly beautiful, and full of, intricate details that lends a certain fragility and humanity to your scores. You get three different emotional intensities, from a beguiling whisper quiet "ppp" with the bow barely touching the string, to a more robust, but still intimate "p". Additionally, all of these come in three distinct tonal colours; from the bright and open normale (without mute), to the silky smooth con sordino (with mute) and finally the whisper quiet super con sordino (with a large rubber practice mute).
Despite the focus on quiet sounds, Iremia is highly playable, designed to express your musical ideas with ease, thanks to extended controls of the dynamic response of the instrument. 

The textures in Iremia are soft, but always living, breathing and moving, making them perfect for cinematic underscore. Some are frenetic while others are make-me-cry beautiful, and they are all performed in a rhythmically random, improvised manner, so the texture is never static.
Of course all the textures come in both con sordino and normale variations, and you even have the option of smoothly crossfading between the two, something that would be impossible to do in real life, but is highly expressive.

Starting from barely audible, crescendoing to a peak, before fading to silence, the swells in Iremia opens up endless creative possibilities. You get three different variations: normale, con sordino and con sordino tremolo. All of them come in 4,3,2 and 1 seconds length, and with the Time Machine Pro patch you can even change the length of these. 
All the swells where performed in a single bow stroke, so they are completely smooth.
Spend your time writing music, not trying to figure out what all the knobs and sliders do. The interface of Irema gives you just the controls you need, but advanced controls for dynamics, mic channels and FX is just a click away.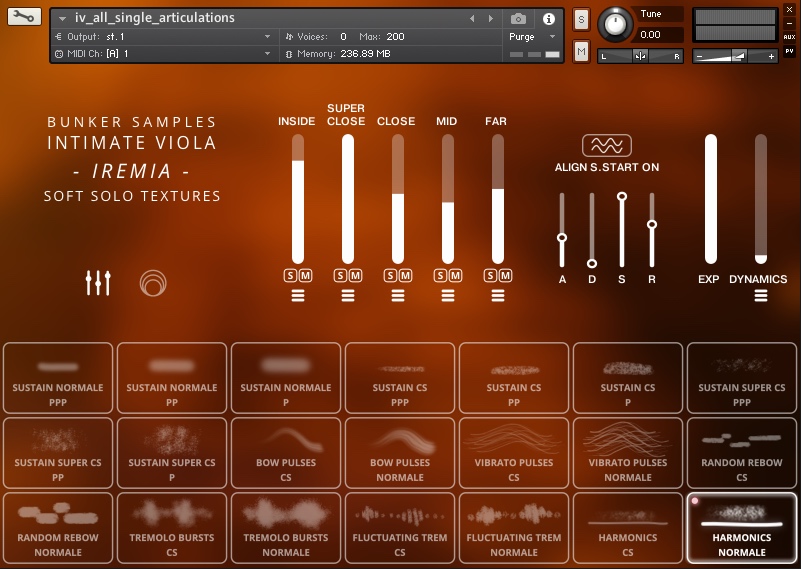 Conventional wisdom teaches us that string instruments should be recorded with a fair bit of distance between the microphone and the instrument. But what happens when you ignore this and put the microphone really, really close…and then play really, really quiet? It turns out you get an incredibly detailed and intimate sound that pulls on the heart strings, full of all those little human imperfections. That's why Iremia comes with three different close mic positions, including one placed inside the viola, as well as two room perspectives.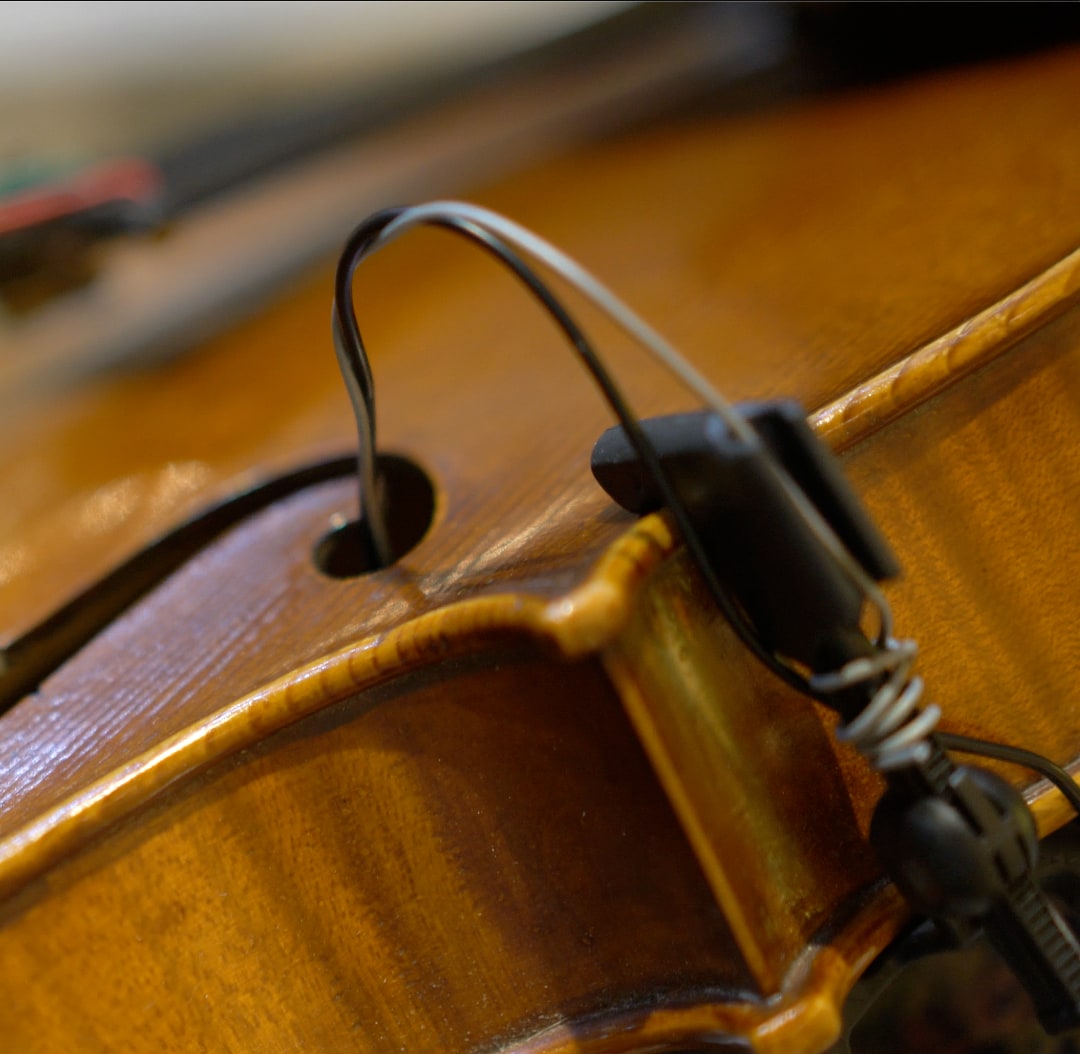 For Iremia we invented a way of mounting a tiny omni mic so that it floated inside the instrument. It is an unbelievably detailed and intimate sound – you literally can't get closer than this!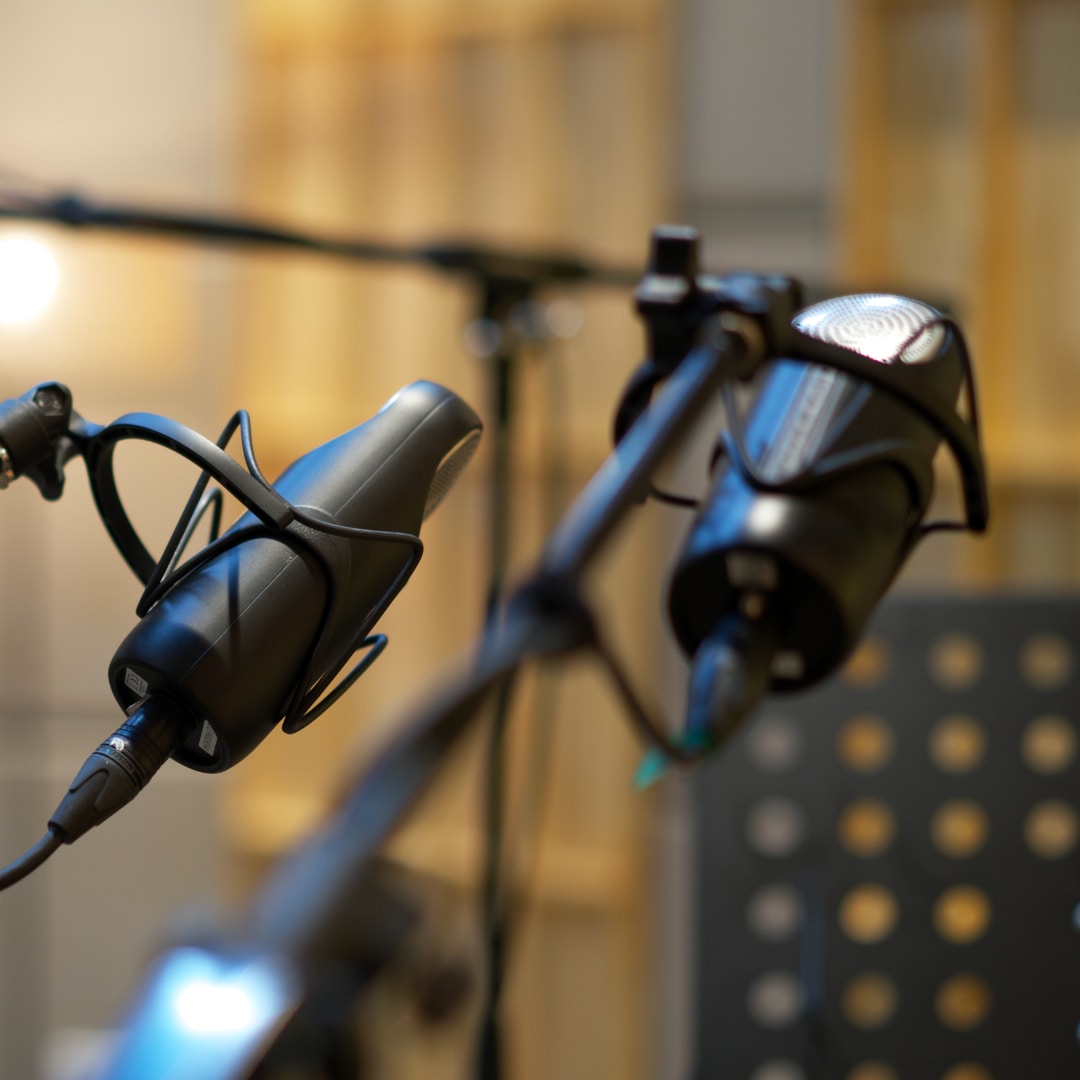 A unique close mic perspective, placed just 30 cm above the viola, with the left mic biased towards the lower strings and the right towards the high strings. A very warm and inviting sound.
A more traditional close mic setup, consisting of a Neumann U87 and two KM184s on the sides, about 1 meter away and slightly above the viola. Adds definition and depth to the mix.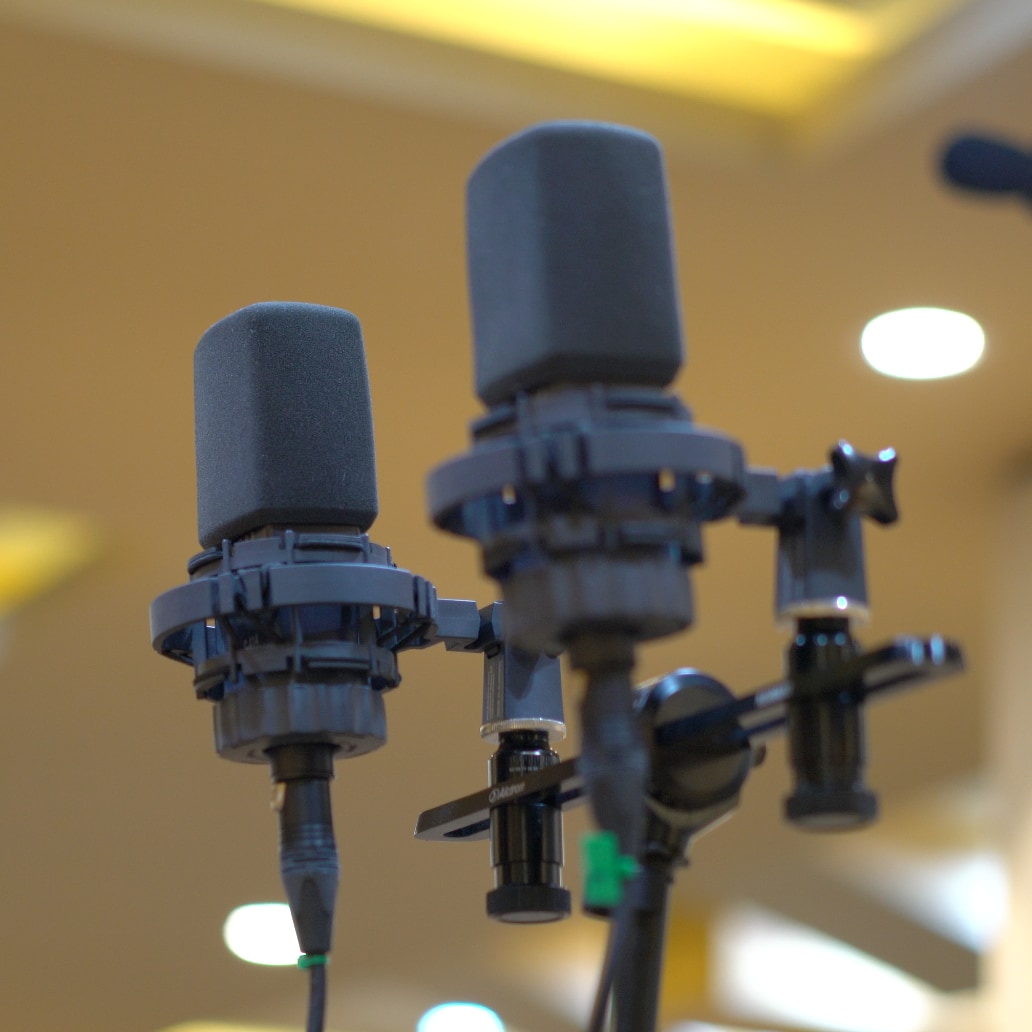 Rounding out the mic selection is a mid perspective of two AKG 414s, and a far perspective consisting of two Telefunken M60s, spaced very wide apart. These signals ad a great sense of depth to the sound, making it easy to achieve the perfect mix.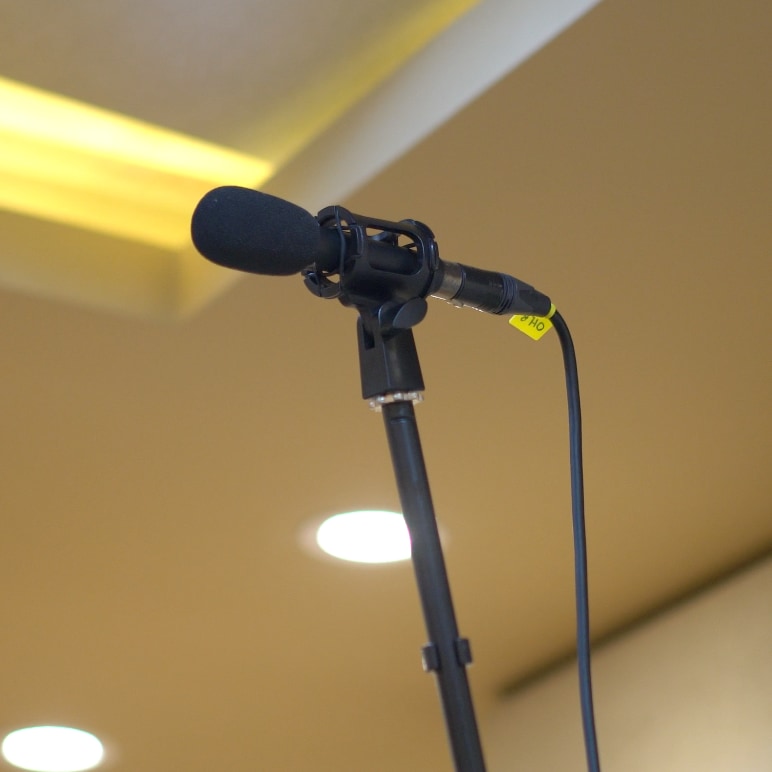 Sustains Normale ppp
Sustains Normale pp
Sustains Normale p
Sustains CS ppp
Sustains CS pp
Sustains CS p
Sustains Super CS ppp
Sustains Super CS pp
Sustains Super CS p
Harmonics CS
Harmonics Normale
Bow pulses CS
Bow pulses Normale
Vibrato pulses CS
Vibrato pulses Normale
Random Rebow CS
Random Rebow Normale
Tremolo bursts CS
Tremolo bursts Normale
Tremolo fluctuations CS
Tremolo fluctuations Normale

 
Swells Normale 4sec
Swells CS 4sec
Swells Trem CS 4sec
Swells Normale 3sec
Swells CS 3sec
Swells Trem CS 3sec
Swells Normale 2sec
Swells CS 2sec
Swells Trem CS 2sec
Swells Normale 1sec
Swells CS 1sec
Swells Trem CS 1sec
*) All swells included as Time Machine Pro patches as well, which can be time stretched.
Dynamic Sustains Normale (X-fade ppp-pp-p)
Dynamic Sustains CS (X-fade ppp-pp-p)
Dynamic Sustains Super CS (X-fade ppp-pp-p)
Sustains ppp CS into Normale
Sustains pp CS into Normale
Sustains p Con Sordino into Normale
Sustains ppp Super CS into CS
Sustains pp Super CS into CS
Sustains p Super CS into CS
Harmonics CS into Normale
Bow pulses CS into Normale
Vibrato pulses CS into Normale
Random Rebow CS into Normale
Tremolo bursts CS into Normale
Tremolo fluctuations CS into Normale
3425 samples
13.7 GB uncompressed size
8.61 Lossless compressed size (installed size)
8.49 GB download size
48 total articulations
5 patches
PDF user manual included
REQUIRES THE FULL VERSION OF KONTAKT 6.7.1 OR LATER – NOT THE FREE KONTAKT PLAYER.
Align sample start – phase aligns all mic perspectives to the inside mic for a darker tone without the need for EQ.
Extended simulated dynamics.
Full control over the dynamic range – make the instrumnet react the way you want it to.
Fully adjustable velocity control.
Per mic stereo width control.
Per mic Delay and Reverb sends.
Route each mic directly to Kontakt's discrete outputs, so you can process them individually in your DAW.
Youtube reviews and demos